The annual Pastoral Care Conference of CGM and ACTION reached another milestone of helping and equipping the pastors in the Philippines. The 16th Pastoral Care Conference was conducted on August 17-19 at its very own venue, Jabez Campsite, Pala-pala, Dasmariñas, Cavite. It was well attended by 228 pastors, Church leaders/elders, Church workers and Church planters who came from almost every corner of the country, from North of Luzon to Mindanao (Isabela to South Cotabato).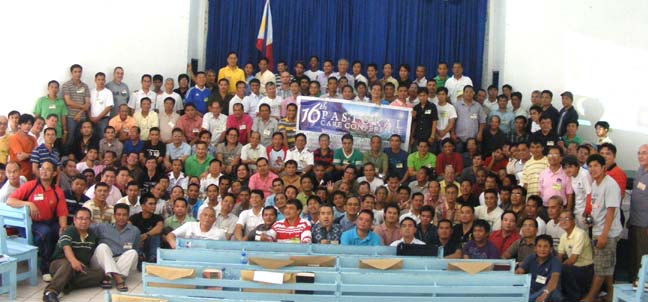 The conference speakers were missionaries of Action International Ministries namely, Dr. Rod Pence, Bro. Patrick O'Connor-Church Planting, Bro. Jeff Anderson-former Action Phil. Director, Pastor Bruce Ingram and Walt Becker- Mentoring and Pastoral Leadership Development. Filipino speakers are Pastor Leo Galanza, a professor of Biblical Studies at the Center for Biblical Seminary (CBS) in Antipolo City and Pastor Jurem Ramos of Soli Deo Gloria Christian Ministries, program host and preacher of Shepherd's Voice at 702 DZAS Radio. The speakers showered the 3-day conference with inspirational, encouraging messages and exhortations, powerful and noteworthy biblical insights and principles that contributed to the conference objective and theme, "Church Leadership Development".
Dr. Rod Pence gave an exposition on the first epistle of John. He started with the historical background of the epistle, mentioning the Gnostic problem, how Gnosticism effects belief in the Gospel of Jesus Christ. He warned the participants of the effect and program of modern Gnosticism and gave the 3 cardinal test of 1 John, the theological, moral and social test. He strongly warned also the participants to be vigilant and to stay away from sexual temptation or immorality. He repeatedly said, "it will destroy your ministry."
---
The 228 participants were divided into two groups on the first day.
Patrick O'Connor actively shared the "Start Churches Now!" and the ten (10) principles included on his material, such as to Think Small, Minister with Urgency, Keep it Biblical, Keep it Simple and many others. Pastor Patrick's style of preaching was enjoyed by the participants. He always invites them to participate, interact and volunteer as he gave illustrations and explained his lessons. He encouraged the participants to start small or little churches as they loved Jesus. He shared its advantages compared to big churches, using the "Rabbit and Elephant" churches as an illustration.
Pastor Leo Galanza, who just arrived from a month-long research study in Israel, shared about "Transformational Leadership". He said during his session that the vision, mission and passion in ministry must see the image of Christ. He challenged the pastors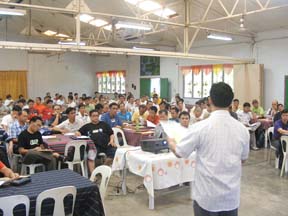 to surrender their ambitions to the service of God, and crucify their ministry in order to create an impact and change in their respective community. He mentioned during his session, "Ang pagpapastor ay nakakatuyo", (Pastoral ministry is draining). After he mentioned the word "…nakakatuyo" (draining), many pastors responded at the back and said "tuyong-tuyo na nga kami" (we are already drained), so Pastor Leo continued his lesson and encouraged them to persistently study the Word of God. He also recommended some books for reading that would help them grow in their pastoral ministry.
Pastor Bruce Ingram talked about "Planning for Renewal", giving emphasis on mentoring relationship. He said that leaders are prepared to prepare others, who would prepare others to do the same, and that God causes the growth; our part is to be faithful servants and steward of God's grace. Questions like "What is God's vision for this people?, How many churches will it take?, What will the churches look like? Who will mentor me? Who will I mentor?" were presented and asked by Pastor Bruce to the participants as the goals God is giving to them. Pastor Bruce also talked about "Renewed with God and One Another". On this session, he persuaded the participants to remain faithful to Christ even in overwhelming problems; to have time for renewal and refreshment in their life and ministry. He ended the session with group discussion using Matt. 11:28-30, which gave an ample time to the participants to share their personal and ministry experiences, to describe their relationship with God and to pray with one another.
Bro. Jeff Anderson was brave enough to follow 2 Timothy 4:2 (Preach the Word! …to rebuke, exhort…). On his "Attitude Check", a devotional message from Luke 17:11-19, he exposed and rebuked the negative attitudes of some pastors and leaders like being unthankful. "Ako ang pastor dito, ako ang hari dito" (I am the pastor here, so I am the king here), said Bro. Jeff as he exemplified the attitude of entitlement. He said that pastors should be polite, should have a thankful heart and should be a role model to others.
Pastor Jurem Ramos shared his personal testimony on how he came to know the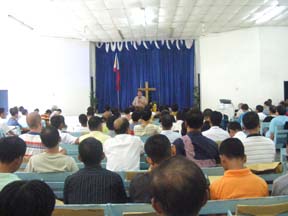 Lord as he started his topic on Biblical Church Governance. He also appealed to the participants to treat him equally with any other pastors after knowing that most of the participants are followers and avid listeners of his radio ministry, the Shepherd's Voice. He firmly and fearlessly uttered during his two-hour session that biblical church governance is shared and male leadership. This topic has been very controversial at CGM/ACTION conferences, but Pastor Jurem, like other CGM's previous conference speakers, also said, "that's what the Bible says; that's very biblical".
Pastor Walt Becker shared about "Equal but Different", understanding the differences between a man and a woman. He also shared on the second and third day divided session the "Shepherding, as the core of Mentoring Process", the "Biblical Qualifications of a Shepherd" and the "Biblical Role of Husband and Wife". He encouraged the participants to find another person, aside from their wives, who can hold them responsible and accountable with each other.
The Pastoral Care Conference will not be complete without its traditional fun night or banquet night. The night was showered with games, joyful singing, and special presentations such as poem from Pastor Jeffrey Totañes, solo numbers from Pastor Ismael Jiao and Pastor Ding Saria, trio by Pastor Duane Garcera, Pastor Joseph Maraon and Jonathan Cotorno, quintet by the Salvation Army' pastors and great testimonies from former prisoners, Pastor Andy Dolin and Pastor Ely Casinilio.
Also during the banquet night, the three speakers – Pastor Rod, Pastor Bruce and Pastor Walt gave a surprised gift of two packs of chocolates to each delegate to be given to their wives when they go back to their respective places after the conference. This special gesture from the three speakers was greatly admired by the participants. One delegate said, "Tonight is my wife's birthday and this is truly a wonderful gift for her when I go back."
The conference was enjoyed by the participants including the food and siesta time, some played basketball, while others used their free time to fellowship and find friendship with other participants.
Dr. Pence ended the conference sessions with his message from 2 Cor. 5:10-11 "The Account Which We Must Give", discussing one of the prominent doctrines of the New Testament, the doctrine of Rewards and Judgment Seat of Christ. He exhorted the participants to walk a sanctified life; he said "God will reveal the motives and hidden things of the heart at the Bema (Judgment) seat of Christ". "The ocean is fully full, and each of the vessels can also be filled that they are all fully full. But due tot the size of each one, they will never be equally full. So it is at the "Bema" seat of Christ we will be asked to give an account of our lives since we became a believer", he added.
CGM and ACTION acknowledged the support and ministry of the speakers; they were given a certificate of appreciation. Each of them also received a miniature of Philippine Jeepney as a token of appreciation from the participants.
CGM and ACTION also recognized the oldest in pastoral ministry from among the participants; he is Pastor Leandro Danganan of Caloocan Bible Church. The farthest participant is Maj. Ireneo Lucenio of Lake Sebu, South Cotabato, and the newest in pastoral ministry, Pastor Joseph Maraon who just started his pioneering work on August 2010.
Testimonies and Comments:
"My calling was renewed; I was strengthened, and fed with new insights"
Capt. Rey Magat – Salvation Army-Asingan, Pangasinan
 "Wonderful! I'm impressed, relaxed, and empowered"
Capt. Joel Nanlabi – Salvation Army-Sarangani Province
 "Thank you very much for the training; good food and facilities. God bless your ministry!
Pastor Reynaldo Cervantes
Bahay ng Pag-asa Community Church-Baliuag, Bulacan
"The conference was so beneficial to us pastors."
Gerry Marfil – Jesus Christ the Messiah Christian Church

Signal Village, Taguig City
"The conference was very encouraging and enlightening. My thanks and gratitude to CGM, ACTION for the wonderful conference and to the speakers for the inspiring and timely messages they shared."
Ronald Failano

KKSJ, San Juan City