Last August 30, 2019, CGM celebrated its 58th Anniversary. Employees of both CGM and JCS (Jabez Christian School) were present in the said event.
The Board of Trustees were present 

at the event as well as some 

distinguished guests.

 

The resident pastor of GCF Ortigas, Dr. Larry Pabiona, officiated the dedication of CGM's new admin building. His wife, Mrs. Joyce Pabiona, led the ribbon cutting together with the BOT.

 
| | |
| --- | --- |
| The Admin Manager, Mrs. Rose Ann P. Estrella, hosted the program. Mr. Zoilo de Guzman, Chairman of the Board of CGM and JCS, gave the opening remarks while Pastor Lito de Guzman opened the time in prayer. | |
| | |
JCS Band led the praise and worship
  

The speaker was introduced by Ms. Rowena Gonzales, member of CGM BOT.

Dr. Larry Pabiona reminded all those present that we are only able to serve God because of His grace. Our motive should therefore be, at all times, to give glory to God who will enable us to serve Him passionately through the Empowerment of the Holy Spirit.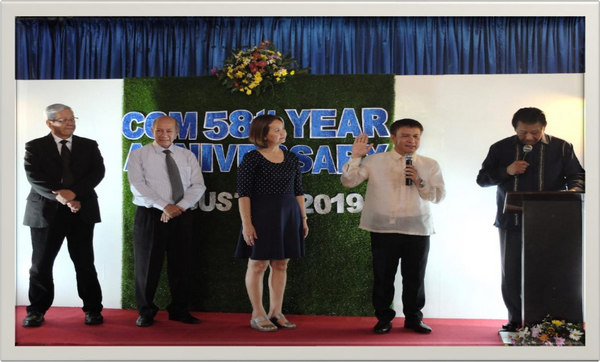 Mr. Zoilo de Guzman, together with the other Board of Trustees (from left), Atty. Alex Parco, Bro. Rudy Ponce de Leon and Ms. Rowena Gonzales, facilitated the formal installation of the new CGM President, Engr. Armando P. Bagunu. It was followed by Engr. Arman's oath taking and address.
It was truly a day of thankfulness to God for His faithfulness to CGM for the last 58 years. To add to the celebration was the introduction and welcoming of two new members of the Board of Trustees: Atty. Domie Eduvane and Mr. Raul Tuason. Each gave a welcome speech and those present cannot conceal their excitement and happiness to all the possibilities for CGM that accompanies them.
| | |
| --- | --- |
| | Atty. Domie Eduvane |
| Mr. Raul Tuason | |
A special prayer for all that comprises CGM was led by JCS Administrator, Mr. Alison Dulguime. It was a heartfelt moment for all as each stormed the heaven for God's blessing and favor upon CGM and its ministries.

 
| | |
| --- | --- |
| | To end the momentous event is none other than Bro. Rudy Ponce de Leon, Treasurer, CGM Board of Trustees. He fondly recalled the very first year CGM was founded, way back in 1961. The last 58 years is truly a testimony of God's goodness and faithfulness! |