Christian Growth Ministries, Inc.

Christian Growth Ministries, Inc.

The 18th Pastoral Care Conference with Dr. Gary Rieben – August 7 to 9, 2012
---
This 2012 is the 18th years of Pastoral Care Conference sponsored by Christian Growth Ministries and ACTION International Ministries.

This year, the event was held last August 7 – 9, 2012 on its regular venue at Jabez Campsite, Dasmariñas, Cavite.
Days before the scheduled conference, we were bogged down by calls and text messages from the delegates if the conference is pushing through.

There's a nonstop heavy rain that flooded the National Capital Region and its neighboring provinces.

 




 


Nonetheless, seventy two percent (72%) of the 300 Pastors and Church workers arrived.

Some came as far as Bicol, Mindoro, Pangasinan and Palawan.

The other 28% were not able to make it because of the flood.

Some houses were neck-deep with waters or if not the road they're passing were not passable.


 




In her welcome remarks, Ms. Rosely Fornoles, CGM President, greeted the crowd of enthusiastic delegates with a hospitable promised that as long there is CGM and ACTION there will always be Pastoral Conference such as this.

Delegates started to arrive in group.

Some get there with their belongings in plastics in order not to soak in water.
Ptr. Ronald Camiling who handled the devotion warmed the heart of the audience by asking the question "What is your mark of identity?" the distinguishing mark people see in a pastor.

 

From which he himself answered, "Jesus is the mark of my identity."

He reiterated that pastors cannot make it alone.

He challenged the crowd to invest in other's lives, not to end everything after the seminar.

That after the lesson is examination time and the determining factor of the impact of the conference is when everyone gets back to their own churches.
Our visiting guest speaker from California, Dr. Gary Rieben of Give Me That Book Ministries delivered the message on 'Building a God-glorifying and soul-satisfying Life. He speaks more on the use and importance of the Word of God in our lives. He said that taking out the scriptures is also taking out the power of God, that when the word of God is not clearly declared; there is famine in hearing of the word. The Law of the Lord is perfect, complete, sufficient, lacking nothing, it has everything.

 

He is the only foreign guest speaker and handled 6 sessions of the 3-day conference. In the question and answer portion, mostly personal, he reiterated the importance of family over and above ministry, though his wife is ever supportive of his ministry. But he mentioned the importance of the kids letting them practice memorizing the scriptures.

Dr. Gary Rieben on "Building a God-glorifying & soul-satisfying Life"



Ptr. Gary's message was so rich from the first session "Our Battle for Faith and Joy in Jesus," that states, if you are a believer you are in a spiritual battle. His other sessions are as follows: The Sufficient Word: It is the ability of Christ to address every area of human existence through the word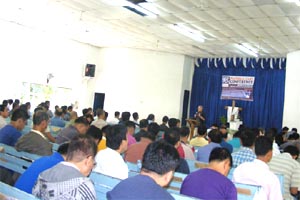 of God; The Battle for the Bible:  Even the enemy knows the scripture can use it against us especially if we are not adept of the Word of God and the enemy's tactics and God's promises; Interpreting the Word: How we approach Scripture is crucial to understanding its meaning and purpose; Meditating on the Word: Bible memorization is crucial in battle and a fundamental way in filling our minds that goes straight to our hearts once meditated alone with Jesus; and lastly, Doing the Word: Taking action on what we've learned from the time we heard God's instructions and promises. Isn't James 1:22-23 famous in this area, instructing us not to simply be hearers of the word?
He concluded his last session with a prayer for the delegates, that they may take hold of God's Word and run the race of their lives, praying that the Holy Spirit of God will make Jesus Christ precious in everyone's soul. 
In Glorifying God in the Gray areas' (The Christian in Today's World) topic of Bishop Reuben Abante of Lighthouse Bible Baptist Churches, Missions and Ministries, he spoke more on being blameless and harmless as children of God, that as children of God, especially workers for God, representing His name, we must show proof of our relationship with Christ.
The workshops or seminars were divided into two; one is with Ptr. Leo Galanza tackling "Developing Effective Pastoral Study Habit."

 

He reiterated that Theology must be able to help the church, and he never stops from learning (the word of God) because he wanted to be developed unto the image of God.

 

The measure that you love your church is you develop a good study habits.

 

Going back on what Ptr. Ronald Camiling said, "We (as pastors) cannot give what we do not have."

 

Ptr. Gil Balignasay on the other hand, talked on 'Raising the Bar of Transformational Leadership.'

 

A National Training Director of WorldTeach Phils., he adapted his message from the notes of Dr. Guy Saffold.

He articulated what leadership really is!
It is taking the initiative to know God deeply, to reflect His Holy character
through
Bishop Fred Magbanua challenging the participants


loving relationship to draw others together in fulfillment of God's creative purposes in the world.

 

Bishop Fred Magbanua, concluded the conference with the challenged that in order to be able to 'Build a God-glorifying and Soul-satisfying Ministry,' one must adapt the Ministry of Jesus.

That the method, motive and main focus of ministry is the same way our Lord Jesus used.

Pastors should balance the ministry between compassion and motive.

What he said encapsulated all of the previous speakers' messages.

The group picture of the 18th Pastoral Care Conference Delegates, speakers and CGM staff.
In between breaks, Pastors were treated with free medical check-ups and given over the counter medicines, free hair cut, free shoe repair and polish, inexpensive second hand clothes and discounted books.

Aside from the low books for sale, pastors were given at least 6 free books after the conference.
To complete the pastors' treat, medical check was coupled with free shoe shine/repair and hair cut.
There are first timers who attended but most of them were long term attendees, like Ptr. Arnel Herradura that was given a title of PCC Hall of Famer.

 

He's been attending this event for 18 years.

He mentioned in his testimony that he was able to build a mini-library because of the books he received in through the years of his attendance.

Below are some first- timers' feedback about their experience in this event.
"Very useful.

 

In pastors busyness, we are tired in the ministry.

 

Eating the word of God and be part of the conference is beneficial to us.

 

We can share it back in our respective churches.

 

Plus the free books, these will benefit not just us but the waiting congregations."

 
- Ptr. Jun Señoren of Jesus Christ the Messiah Christian Church
 

"This is an unforgettable experience for me.

 

I was able to meet my Dean in Bible school
"

 
- Ptr. Jun Lumbre of IRM Bulacan District
"Timely.

 

This serves as a timely reminder to us as pastors, the importance of studying
the word of God."

 
- Ptr. Ronie Salvador, Jr. (a 21 year old youth pastor)
of Imus Bayan Luma Only the Church.
"Malaking ambag sa mga pastors as leaders (great contributions to the pastors as leaders)."

 
- Ptr. Edmar Ikan of UNIDA, Imus
More Pictures:
The delegates actively participating in the action song the worship leader taught.

Bishop Reuben Abante as he shares "The Christian in Today's World" in his topic Glorifying God in the Gray areas.

The night to remember for the pastors who played Double Jeopardy, it's a fun night for everyone.

 

It pays to be a child sometimes.

Grateful of God's goodness, Ptr. Willy Basilio led the closing prayer with fervor and reverence to the Almighty Father.

After the conference, we're not yet done.  It was concluded with the giving away of free books, courtesy of generous donors and authors of the books given away.

Pastors cannot get enough of the give-away books, they still throng at the book display offered by the Literature staff of CGM.

Enjoying the fellowship, they made it more valuable by bonding through swimming and playing basketball, enjoying the amenities of Jabez campsite and the newly built gymnasium of Jabez Christian School.

The working management from CGM of 18th Pastoral Care Conference together with Dr. Gary Rieben and Bishop Fred Magbanua.
The annual Pastoral Care Conference of CGM and ACTION reached another milestone of helping and equipping the pastors in the Philippines. The 16th Pastoral Care Conference was conducted on August 17-19 at its very own venue, Jabez Campsite, Pala-pala, Dasmariñas, Cavite. It was well attended by 228 pastors, Church leaders/elders, Church workers and Church planters who came from almost every corner of the country, from North of Luzon to Mindanao (Isabela to South Cotabato).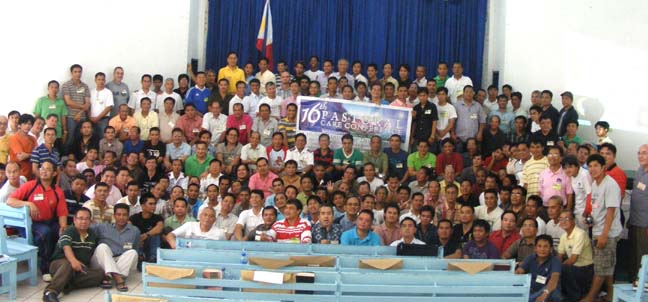 The conference speakers were missionaries of Action International Ministries namely, Dr. Rod Pence, Bro. Patrick O'Connor-Church Planting, Bro. Jeff Anderson-former Action Phil. Director, Pastor Bruce Ingram and Walt Becker- Mentoring and Pastoral Leadership Development. Filipino speakers are Pastor Leo Galanza, a professor of Biblical Studies at the Center for Biblical Seminary (CBS) in Antipolo City and Pastor Jurem Ramos of Soli Deo Gloria Christian Ministries, program host and preacher of Shepherd's Voice at 702 DZAS Radio. The speakers showered the 3-day conference with inspirational, encouraging messages and exhortations, powerful and noteworthy biblical insights and principles that contributed to the conference objective and theme, "Church Leadership Development".
Dr. Rod Pence gave an exposition on the first epistle of John. He started with the historical background of the epistle, mentioning the Gnostic problem, how Gnosticism effects belief in the Gospel of Jesus Christ. He warned the participants of the effect and program of modern Gnosticism and gave the 3 cardinal test of 1 John, the theological, moral and social test. He strongly warned also the participants to be vigilant and to stay away from sexual temptation or immorality. He repeatedly said, "it will destroy your ministry."

Read more...
By: Chona Solano, 16 yrs old
Let your mind start a journey through a strange new world. Leave all thoughts of the world you knew before. Let your soul take you where you long to be. Close your eyes let your spirit start to soar and you'll live as you've never lived before. (Erich Fromm)
 Now that I've graduated from my senior year in High School, another leaf in my life has turned over. I will be entering the next chapter of my life by spending it outside the orphanage. This time, I will be living with my brothers.
Fifteen years ago, together with my siblings Joy, Richard and Raffy, we were brought to the Home of Joy in Mandaluyong City. We stayed there for 5 months then were transferred to the Foster Care Program through licensed Foster Families. My brother Richard and I stayed with Ms. Norma Rafol. After 2 years, we were moved back again to the Home of Joy Residential Care Center, which was at that time located at Jabez Christian Center, Cavite City. We were under the care of one houseparent to another. First, we were under the guardianship of Mr.Watson & Mrs Noemi Atkinson together with the help of Noemi Sabanto, whom we fondly called 'mommy'. Then, when I was in grade 3, we were under the custody of Daddy Rudy and Mommy Fe De Guzman. After 2 years my sister Joy and I were under the care and guidance of Papa Jun and Mama Lucy Regio. Finally, our former Home of Joy manager, Mrs. Juliet Andaya, fostered me at the guesthouse.
Read more...
A former inmate of National Bilibid prison, Bro. Raul Tejada was not aware of anger and bitterness that were eating him out.  These weaknesses controlled him, even before he was incarcerated in jail. 

For many years in his life, the devil took advantage of his fury and enslaved him in bitterness.  He was motivated only by his personal needs and desires, wanting to satisfy only himself. 

But like anyone saved from the certainty of eternal damnation, Bro. Raul is grateful for the redemption he received through the Lord Jesus Christ.  He was freed both from spiritual captivity and physical imprisonment.  He is now out of prison and serves as one of the elders and devotional leader of their church, Calvary Chapel Prison Ministry.

He pursued the habit of reading the Bible and attending several trainings and seminars.  Through the help of CGM's Church Assistance Ministries' seminars, he learned the importance of directing his attention towards Jesus and focusing on other's needs. His personal ambitions and desires are no longer the center of his priorities and wants.

True enough, the result of self-confrontation Biblical counseling is equally rewarding both to this brother and his would be counselees.

 

"Before this faith came, we were held prisoners by the law,  locked up until faith should be revealed." Gal. 3:23

| | | |
| --- | --- | --- |
| "A Family that Makes Difference in Ministry and Society" | PDF | | Print | |

One-day Conference for Pastor and Christian Workers

Old Buswang, Kalibo, Aklan

May 18, 2009

 

CGM/ACTION in cooperation with Northwestern Visayas District Council of the Assemblies of God and Aklan Christian Ministers Movement successfully conducted a One-day Conference for 128 Aklanon Pastors and Full-time Christian Workers on May 18, 2009.

 

It was warmly hosted by New Assembly of God Church located in Brgy. Old Buswang, one of the 16 Barangays of the best known venue of Ati-atihan Festival and gateway to Boracay island via the port of Caticlan, "Kalibo, Aklan".

 

According to Pastora Rowena Andrade, our conference coordinator at Kalibo, and other pastors; "The conference, the theme and the topics discussed by Bro. Jeff Anderson and Rev. Willie Basilio are "well-matched" to our needs". "We are showered with different seminars here about Leadership and other topics. But this is our first time to have a conference about family and family issues, this is indeed an effective and valuable conference", she added.

 

Pastor Cyril Agustino of Aklan Baptist Church together with other pastors has this to say, "We are thankful to CGM and ACTION for bringing the conference here. The speakers are anointed; they tackled the issues without reservations".

"We were "bitin" (left wanting for more). We hope that you will conduct conferences again here", they added.

Dorz is under the loving care of the Home of Joy for almost 19 years now. She was declared abandoned through court proceedings. The petition was granted last July 31, 1994 three years after she was born.

Year 1991, on the 31st of July at UP PGH Hospital, Dorcas was born prematurely. She suffered from pneumonia, thus was required to stay longer at the nursery for further treatment. Days passed by, her parents and relatives stopped visiting her and eventually abandoned her at the said hospital.

Upon admission at the Home of Joy until October 1992, she was suffering with different illnesses. A series of laboratory tests were conducted which led to the attending physician is recommendation for a developmental pediatrician's assessment.

In March 15, 1993, results showed that Dorz has Cerebral Palsy that needs speech, physical and occupational therapy. Six months after, it was found out that she was suffering from sensory–neural hearing loss and Global Developmental Delayed (anthetoid cerebral palsy) with mental retardation. Through PCSO and concerned citizen, she availed free hearing aid to use.

When she reached the age of 9, she attended the SpEd School at Bright Future in Imus, Cavite, while at the same time undergoing series of therapies. These took place from August 2000–May 2006. These therapies helped Dorcas improve her physical and cognitive development. She was able to write her own name, learned more sign-language, follow simple direction and move freely with minimal supervision.

Read more...

Topic: Spiritual Maturity as Measurement of Church Growth

 

WOWSE, "With or Without Someone Else, we have to work, and work for the glory of God." This is just one of the challenges conveyed by Rev. Paul Caampued, the Secretary General of Reformed Presbyterian and the Director of Pastoral Training Course (PTC) to the 70 participants of CGM/ACTION's One-day Conference held at SICAP (Samar Integrated Community Advancement Project) Center, Calbayog City on May 20, 2009.

 

The Seventy (70) participants are composed of 34 Pastors and 36 Full-time Christian workers who came from different towns of Northern Samar (Catarman, Victoria, San Isidro, Sta Margarita, Catubig) and Calbayog City, Western Samar. Early bird, Ptra. Estella Castillo, whose ministry is in the mountains of Catubig, came the day before the Conference because she has to take a 3 hours walk on a flooded rice field just to reach the town proper of Catubig, Northern Samar.

Read more...
«

Start

Prev

1

2NextEnd »
Page 1 of 2
CGM News
Feed Entries
Who's Online
Guests Online: 1
Members Online: 0